4th Martial Arts Festival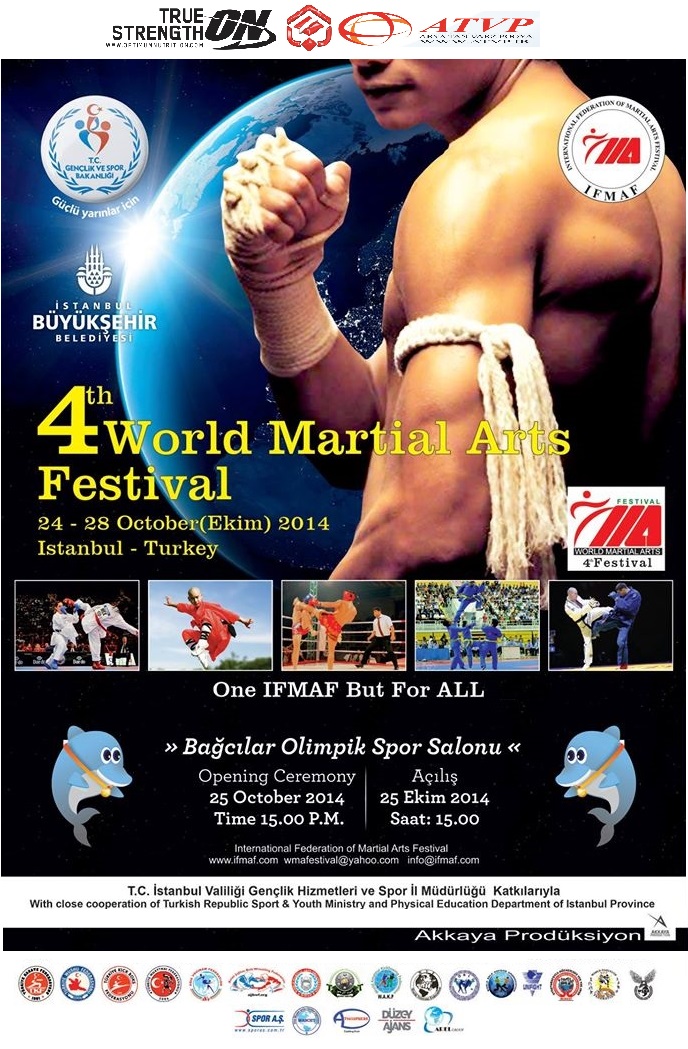 One IFMAF but for ALL
 , I am glad to inform you the 4th World Martial Arts Festival was Held with support of Turkish Government such as Ministry of youth and Sport  and Physical Education of Istanbul, the Istanbul Municipality, Istanbul Provincial,   (Karate , Kickboxing , Wushu And Muay Thai FEDERATIONS).
the IFMAF Headquarters start the activities and accept responsibilities to conduct the 4th World Martial Arts Festival since 24th until 28th October 2014 in Istanbul, Turkey.
 It was a great honor and a privilege for all of us to be host of this unique mega event in beautiful & historical city of Istanbul in the presence of representatives from different countries around the world. 
In this unique event, 1700 athletes from 62 countries of five continents participated in International, World and Asian competitions. The games were held in variant martial arts styles as Vovinam, Muay Thai, Kikboxing, Ju Jitsu and Belt Wrestling, Kowat Alrami, Self Defense and Individual .Martial Arts Pangration, Unifight,Karate, Pahuyuth,Wushu and Veterans 
Kowat Alrami conduct the World Cup In 4th World Martial Arts Festival and the result of competitions are as follows: 
No.

Descipline

Style

Weight

Gender

Country

Place

Full Name

1

Kowat Alrami

Light Power

50 K.G Male (Youth)

JORDAN

TURKEY

TURKEY

1ST PLACE

2ND PLACE

3RD PLACE

MASOUD  ABDELHAKIM   TUGAY ASLAN

MERET OZADPAN

2

Kowat Alrami

Light Power

65 K.G  Male (Youth)

JORDAN

TURKEY

TURKEY

1ST PLACE

2ND PLACE

3RD PLACE

ALI ZIAD AYAAD

ISMAIL OZPOYRAN

EMER KAYA

3

Kowat Alrami

Light Power

75 K.G  Male (Youth)

LEBANON

TUNISIA

JORDAN

1ST PLACE

2ND PLACE

3RD PLACE

ABDELHAK BOUMERHI

KRIFA AHMED

ABDELKARIM ZIAD

4

Kowat Alrami

Light Power

80 K.G  Male (Youth)

LEBANON

JORDAN

PAKISTAN

1ST PLACE

2ND PLACE

3RD PLACE

DERAR DERBAS

WALID MOHAMED

KHALIL SAMI

5

Kowat Alrami

Full Power

55 K.G  Male

TURKEY

IRAQ

LEBANON

TURKEY

1ST PLACE

2ND PLACE

3RD PLACE

3RD PLACE

ONUR AYEDPOU

SALAH HASSAN

BILAL  BOUMERHI

GOLKHAN AKAY

6

Kowat Alrami

Full Power

55 K.G  Female

TURKEY

EGYPT

TURKEY

1ST PLACE

2ND PLACE

3RD PLACE

ASLI BOSHENU

HEND RIZEK

ESIN CARESES

7

Kowat Alrami

Full Power

65 K.G

Male

EGYPT

IRAN

ALGERIA

IRAQ

1ST PLACE

2ND PLACE

3RD PLACE

3RD PLACE

ALAA SAYALA

ADEL AMIN

EZZIANI ZAKARIA

MAHMOUD ABDELATIF

8

Kowat Alrami

Full Power

65 K.G  Female

TUNISIA

KUWAIT

TURKEY

1ST PLACE

2ND PLACE

3RD PLACE

IJTIHAD BEN IBRAHIM

ZAHRAA BOABBAS

OZLEM SAHIN

9

Kowat Alrami

Full Power

70 K.G  Male

ALGERIA

GERMANY

IRAQ

EGYPT

1ST PLACE

2ND PLACE

3RD PLACE

3RD PLACE

LOTFI HAWARI

RABIH RESHO

KHALDOUN SOFI

ESSAM REFAAT

10

Kowat Alrami

Full Power

75 K.G  Male

LEBANON

LEBANON

LIBYA

CAMEROON

1ST PLACE

2ND PLACE

3RD PLACE

3RD PLACE

TOUFIC KASSAS

KASSAS KHALED

ISMAIL SULAIMAN

ALAIN GUAY

11

Kowat Alrami

Full Power

80 K.G  Male

LEBANON

SYRIA

IRAQ

1ST PLACE

2ND PLACE

3RD PLACE

BASHAR ABBAS

AHMED ZEYAD

OMAR SELMAN

12

Kowat Alrami

Full Power

85 K.G Male

TUNISIA

LEBANON

TURKEY

1ST PLACE

2ND PLACE

3RD PLACE

FOUAD SHABANE

SADDEDDINE HAISAM

METIN UJRUK

13

Kowat Alrami

Full Power

85 K.G Veteran Male

LEBANON

KUWAIT

1ST PLACE

2ND PLACE

OMAR SAFI

ALI NHAZAA

14

Kowat Alrami

Full Power

90 K.G

Male

LIBYA

ALGERIA

LEBANON

IRAQ

1ST PLACE

2ND PLACE

3RD PLACE

3RD PLACE

MOHAMMED ELMABROUK

AOUISSI LAKHDAR

ALI HAMDAN

AHMAD ABBAS

15

Kowat Alrami

Full Power

+95 K.G   OPEN  Male

LEBANON

U.S.A

LEBANON

1ST PLACE

2ND PLACE

3RD PLACE

MAJD AL HALLAB

ISMAIL TAJEDDINE

ALI HAMDAN
NO.

COUNTRY

PLACE

MEDALS

1

LEBANON

1ST PLACE

6 GOLD - 3 SILVER – 2 BRONZE

2

TURKEY

2ND PLACE

2 GOLD - 2 SILVER – 6 BRONZE

3

JORDAN

3RD PLEACE

2 GOLD - 1 SILVER – 1 BRONZE

4

TUNISIA

4TH PLACE

2 GOLD - 1 SILVER

5

EGYPT

5TH PLACE

1 GOLD - 1 SILVER – 1 BRONZE

6

ALGERIA

5TH PLACE

1 GOLD - 1 SILVER – 1 BRONZE

7

LIBYA

6TH PLACE

1 GOLD -                    1 BRONZE

8

KUWAIT

7TH PLACE

                 2 SILVER

9

IRAQ

8TH PLACE

1          

- 1 SILVER – 1 BRONZE

10

IRAN

9TH PLACE

                 1 SILVER

11

GERMANY

9TH PLACE

                 1 SILVER

12

SYRIA

9TH PLACE

                 1 SILVER

13

USA

10TH PLACE

1 BRONZE

14

SUDAN

10TH PLACE

1 BRONZE
Vovinam conduct the 3rd Open Asian Championship, In 4th World Martial Arts Festival and the result of competitions are as follows: 
| | | | |
| --- | --- | --- | --- |
|   Descipline |     Full Name |    Country   |         Title |
|    Vovinam      |   Hamid Khani   |  I.R.Iran |    Best Referee |
No.

Descipline

Weight

Gender

Country

Place

Full Name

1

VOVINAM

-54 K.G

Male

IRAN

INDIA

TURKEY

1ST PLACE

2ND PLACE

3RD PLACE

MOSA AKBARI

RAJU K. SINGH

ERDAL KITMUR

2

VOVINAM

-57 K.G

Male

IRAN

AFGHANISTAN

TURKEY

1ST PLACE

2ND PLACE

3RD PLACE

ALI RAZ

ALI YASER HOSEINI

SUKRTI BACON

3

VOVINAM

-64 K.G

Male

IRAN

AFGHANISTAN

TURKEY

1ST PLACE

2ND PLACE

3RD PLACE

MOSELAM ZANDLASHANI

NAJIB MOHAMMADI

ALHLLA GIDILE

4

VOVINAM

-68 K.G

Male

TURKEY

PAKISTAN

IRAN

1ST PLACE

2ND PLACE

3RD PLACE

3RD PLACE

ONUN YELDIN

AHMAD AZIZ

NILED PORHOLAM

MILAD PORGHOLAM

5

VOVINAM

-60 K.G

Male

TURKEY

IRAN

AFGHANISTAN

IRAQ

1ST PLACE

2ND PLACE

3RD PLACE

3RD PLACE

ISMEIL

DAVOD HEYDARY

MEYSAM HOSEINI

LETH KHAMAT

6

VOVINAM

-72 K.G

Male

 

IRAN

TURKEY

IRAQ

INDIA

1ST PLACE

2ND PLACE

3RD PLACE

3RD PLACE

PEYMAN KHOSHKALAM

EYURCON DENYTEL

KHALDON YASIN

BHIMDARSHAN TAYDE

7

VOVINAM

-51 K.G

Male

Best of the Best

IRAN

TURKEY

1ST PLACE

2ND PLACE

MORTEZA SARMADY

BOCHAN ACS

8

VOVINAM

-77 K.G

Male

Best of the Best

TURKEY

IRAN

1ST PLACE

2ND PLACE

 

HASAN BIGIR

SEDCHAR DELY

9

VOVINAM

-82 K.G

Male

Best of the Best

IRAN

TURKEY

1ST PLACE

2ND PLACE

 

IALI ASGAR AKBAR KHAN

HSMIT BOTOR

10

VOVINAM

-86 K.G

Male

Best of the Best

RUSSIA

INDIA

1ST PLACE

2ND PLACE

 

MARGOV SOSLAN

SHANKARMAHABALE

11

VOVINAM

-91 K.G

Male

Best of the Best

RUSSIA

IRAN

1ST PLACE

2ND PLACE

 

TEDEEV SOSLAN

ALI REZPESH POL

12

VOVINAM

+91 K.G

Male

Best of the Best

INDIA

IRAN

1ST PLACE

2ND PLACE

 

JAY PARKASH

IRAJ AZIZPOUR
No.

Descipline

Weight

Gender

Country

Place

Full Name

1

VOVINAM

- 48 K.G

Female

INDIA

AUSTRALIA

IRAN

1ST PLACE

2ND PLACE

3RD PLACE

TWINKLE  BHANDARI

SOMAYA HAIDARI

FATIMA REZAEE

2

VOVINAM

-44 K.G Female

Best of the Best

INDIA

TURKEY

1ST PLACE

2ND PLACE

ABOLI ASHRU PHALKE

HILOL ERJVIN

3

VOVINAM

-56 K.G  Female

Best of the Best

INDIA

TURKEY

1ST PLACE

2ND PLACE

HENNA HUIDROM

DEBIE APOYAN

4

VOVINAM

-60 K.G   Female

Best of the Best

TURKEY

AUSTRALIA

1ST PLACE

2ND PLACE

ESRAN BAYROM

ZOHRA ALI

5

VOVINAM

-65 K.G  Female

Best of the Best

IRAN

AUSTRALIA

 

1ST PLACE

2ND PLACE

SEYEDEH SAHAR MOSAVI

MASOUMA ALI

6

VOVINAM

-70 K.G  Female

Best of the Best

IRAN

TURKEY

 

1ST PLACE

2ND PLACE

 

YASAMAN BAGHERI

GELETILEV SINEM

7

VOVINAM

+71 K.G

Female

Best of the Best

TURKEY

IRAN

1ST PLACE

2ND PLACE

MERVE GELITETUTE

MARYAM YOUSEFI

8

VOVINAM

-52 K.G

Female

TURKEY

 

1ST PLACE

JEYLONKAYA

9

VOVINAM

-75 K.G

Female

INDIA

1ST PLACE

BHAGYASHRI SHANKAR MAHABALE
No.

Performance

Country

Place

Full Name

1

Long Ho Quyen

(Single Female)

INDIA

INDIA

1ST PLACE

2ND PLACE

HENNA HUIDROM

PRIYA JADHAV

2

Thap Tha Quyen

(Single Male)

INDIA

INDIA

1ST PLACE

2ND PLACE

YUVRAJ CHANDALIYA

DEVEN DHANDE

3

Ngu Mon Quyen

(Single Male)

IRAN

IRAN

1ST PLACE

2ND PLACE

MEYSAM JAHANIPOUR

HOJAT KATEBI

4

Tinh Hoa Lueng Nghi Kim Phap

(Single Weapon)

IRAN

1ST PLACE

HAMID KHANI

5

Tu Ve Nu

(Self Defense Dual)

INDIA

1ST PLACE

TULSI TOTLA – SHRINAY JADHAV

6

Song Luyan Ma Tau

(Dual Weapon)

INDIA

1ST PLACE

 

MAHESH GHUMARE – YOGESH SANGALE

7

Song Luyen Kim

(Dual Sword Women)

INDIA

1ST PLACE

 

PRIYA JADHAV – KIRAN GAWALI

8

Song Luyen Se

(Dual Without Weapon)

INDIA

1ST PLACE

JAYESH LODHA – KARTIK GAWALI

9

Da Luyen Tay Khong Nu

(Multi Form Women)

INDIA

1ST PLACE

TULSI TOTLA – MAHESH GHUMARE

YOGESH SANGALE – KARTIK GAWALI

10

Da Luyen Vu Khi Nu

(Women Multi With Weapon)

INDIA

1ST PLACE

KIRAN GWALI – JAYESH LODHA

KARTIK GWALI – KARTIK KAMBALE

 

 

Da Luyen Tay Khong Nam

(Multi Form Men Without Weapon)

INDIA

 

AFGHANISTAN

1ST PLACE

 

2ND PLACE

YUVRAJ CHANDALIA – SHRINAY JADHAV

DEVEN DHANDE – MIHIR SANGHAI

MEYSAM HOSEINI – NAJIB MOHAMMADI

ALI YASER HOSEINI – ABOZAR MOHAMMADI

 

DaLuyen Vu Khi Nam

(Multi Weapon Male)

IRAN

1ST PLACE

HAMID KHANI- MEYSAM JAHANIPOUR

AKBAR MALEKI – ALI MORTEZA RAMEZANI
| | | | |
| --- | --- | --- | --- |
| NO. | COUNTRY | PLACE | MEDALS |
| 1 | INDIA | 1ST PLACE | 14 GOLD – 4 SILVER – 1 BRONZE |
| 2 | I.R.IRAN | 2ND PLACE | 11 GOLD – 6 SILVER – 2 BRONZE |
| 3 | TURKEY | 3RD PLEACE |  6 GOLD –  6 SILVER – 3 BRONZE |
| 4 | RUSSIA | 4TH PLACE |  2 GOLD |
| 5 | AFGHANISTAN | 5TH PLACE |                     3 SILVER – 1 BRONZE |
| 6 | AUSTRALIA | 6TH PLACE |                     3 SILVER |
| 7 | PAKISTAN | 7TH PLACE |                     1 SILVER |
| 8 | IRAQ | 8TH PLACE |                                         2 BRONZE |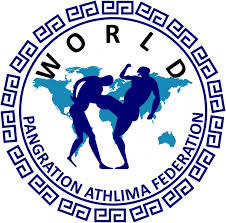 Pangration conduct the 6th World Championship, In 4th World Martial Arts Festival and the result of competitions are as follows: 
No.

Descipline

Weight

Gender

Country

Place

Full Name

1

PANGRATION

PLERIS MALE -58

18-19 Years Old

KAZAKHSTAN

KAZAKHSTAN

RUSSIA

RUSSIA

1ST PLACE

2ND PLACE

3RD PLACE

3RD PLACE

ALYASKAR YELZHAN

BALTABAYEV NIKITA

MAGOMEDOV MURAD

AVERKIN EGOR

2

PANGRATION

PLERIS MALE – 65

18-19 Years Old

AZERBAIJAN

KAZAKHSTAN

RUSSIA

KAZAKHSTAN

1ST PLACE

2ND PLACE

3RD PLACE

3RD PLACE

ZAMANOV ORUJ

USERBAI DAULET

GORINSKYI KONSTANTIN

SATZHANOV NURZHAN

3

PANGRATION

PLERIS MALE -79

18-19 Years Old

RUSSIA

GREECE

1ST PLACE

2ND PLACE

KHANENKO VLADISLAV

LENOS EMMANUIL

4

PANGRATION

PLERIS MALE -85

18-19 Years Old

KAZAKHSTAN

RUSSIA

KAZAKHSTAN

KAZAKHSTAN

1ST PLACE

2ND PLACE

3RD PLACE

3RD PLACE

INZHEL YERKINBEK

NASYROV TURAL

SOLDATOV KONSTANTIN

TEMIRKHANOV TAMERLAN

5

PANGRATION

PLERIS MALE +92

18-19 Years Old

KAZAKHSTAN

1ST PLACE

MERKULOV KONSTANTIN
No.

Descipline

Weight

Gender

Country

Place

Full Name

1

PANGRATION

PLERIS MALE -60

+20 Years Old

RUSSIA

RUSSIA

RUSSIA

KAZAKHSTAN

1ST PLACE

2ND PLACE

3RD PLACE

3RD PLACE

GORINSKIY STANISLAV

BAGAUTINOV ARTUR

GORINSKIY YURI

DAMESHOV ZHANDOS

2

PANGRATION

PLERIS MALE -66

+20 Years Old

RUSSIA

KAZAKHSTAN

AZERBAIJAN

KAZAKHSTAN

1ST PLACE

2ND PLACE

3RD PLACE

3RD PLACE

CHUPANOV SHARAMAZAN

BEKISHEV MIRAT

DARISHOV JOSHGUN

SEIITZHAPAR NURBOL

3

PANGRATION

PLERIS MALE -71

+20 Years Old

RUSSIA

RUSSIA

ROMANIA

IRAN

1ST PLACE

2ND PLACE

3RD PLACE

3RD PLACE

MICHILOV SHAMIL

MAGOMEDOV BEKBULAT

ENE GEORGE

MEHRABANGAHROUEI MOHAMMAD ALI

4

PANGRATION

PLERIS MALE -78

+20 Years Old

RUSSIA

RUSSIA

RUSSIA

RUSSIA

1ST PLACE

2ND PLACE

3RD PLACE

3RD PLACE

SHADRISHEV SERGEY

DOBROLOVICH SERGEY

BUSHNEV DMITRI

GENYUK DENIS

5

PANGRATION

PLERIS MALE -85

+20 Years Old

RUSSIA

GREECE

RUSSIA

AZERBAIJAN

1ST PLACE

2ND PLACE

3RD PLACE

3RD PLACE

ALIMETOV KAMIL

KARATZAINTIS DIOMIDIS

SURODEEV DMITRI

MAHARRAMILI AMIL

6

PANGRATION

PLERIS MALE -95

+20 Years Old

RUSSIA

RUSSIA

RUSSIA

RUSSIA

1ST PLACE

2ND PLACE

3RD PLACE

3RD PLACE

KALININ SERGEY

PAVLOV VADIM

BOBROV SERGEY

MEDVEDEV MITRIY

7

PANGRATION

PLERIS MALE -105

+20 Years Old

KAZAKHSTAN

KAZAKHSTAN

RUSSIA

KAZAKHSTAN

1ST PLACE

2ND PLACE

3RD PLACE

3RD PLACE

SULTANOV BAKHRAM

MERKULOV KONSTANTIN

BONDARCHUK ALEXEY

ICHSHANOV RANIL

8

PANGRATION

PLERIS MALE +105

+20 Years Old

IRAN

ROMANIA

GEORGIA

RUSSIA

1ST PLACE

2ND PLACE

3RD PLACE

3RD PLACE

MEGHDAD OSHRIYEH

LOY DEJAN

TKEMALADZE GRIGOR

ABDULAEV SHUKHRAB
No.

Descipline

Weight

Gender

Country

Place

Full Name

1

PANGRATION

AGON MALE -58

18-19 Years Old

AZERBIJAN

TUKMENISTAN

RUSSIA

KAZAKHSTAN

1ST PLACE

2ND PLACE

3RD PLACE

3RD PLACE

ASGAROV ASGAR

TANRIBERDIYEV AHMET

MAGOMEDOV MURAD

ALYASKAR YELZHAN

2

PANGRATION

AGON MALE -65

18-19 Years Old

AZERBAIJAN

KAZAKHSTAN

KAZAKHSTAN

KAZAKHSTAN

1ST PLACE

2ND PLACE

3RD PLACE

3RD PLACE

ZAMANOV ORUJ

KABDRAKHMANOV

SATZHANOV NURZHAN

USERBAI DAULET

3

PANGRATION

AGON MALE -72

18-19 Years Old

KAZAKHSTAN

ITALY

TURKEY

1ST PLACE

2ND PLACE

3RD PLACE

DAMYLOV ARMAN

RIZZO NICO

KHAYAL ABDULLAYEV

4

PANGRATION

AGON MALE -79

18-19 Years Old

RUSSIA

CANADA

1ST PLACE

2ND PLACE

KHANENKO VLADISLAV

VAN MEURS JOSHUA

5

PANGRATION

AGON MALE -85

18-19 Years Old

KAZAKHSTAN

KAZAKHSTAN

KAZAKHSTAN

IRAN

1ST PLACE

2ND PLACE

3RD PLACE

3RD PLACE

TEMIRKHANOV TAMERLAN

INZHEL YERKINBEK

SOLDATOV KONSTANTIN

MEHDI RAFIEIBOLDAJI
No.

Descipline

Weight

Gender

Country

Place

Full Name

1

PANGRATION

AGON MALE -60

+20 Years Old

KAZAKHSTAN RUSSIA

KAZAKHSTAN AZERBAIJAN

1ST PLACE

2ND PLACE

3RD PLACE

3RD PLACE

SAGYN KAZBEK

BAGAUTINOV ARTUR

ASSILBAYEV ALISHER

ALIJABBAR NURIYEV

2

PANGRATION

AGON MALE -66

+20 Years Old

RUSSIA

AZERBAIJAN

IRAN

KAZAKHSTAN

1ST PLACE

2ND PLACE

3RD PLACE

3RD PLACE

CHUPANOV SHARAMAZAN

DARISHOV JOSHGUN

ABDOLLAH KARIMISARPIRI

ZHAKULIN SAYAT

3

PANGRATION

AGON MALE -71

+20 Years Old

RUSSIA

TURKMANISTAN

KAZAKHSTAN

KAZAKHSTAN

1ST PLACE

2ND PLACE

3RD PLACE

3RD PLACE

MAGOMEDOV BEKBULAT

BABAYEV ABDYLLA

KUDAIBERGENOV NURSEIT

ABUBAKAROV IMRAN

4

PANGRATION

AGON MALE -78

+20 Years Old

RUSSIA

RUSSIA

RUSSIA

KAZAKHSTAN

1ST PLACE

2ND PLACE

3RD PLACE

3RD PLACE

KUZMIN DANILA

DOBROLOVICH SERGEY

KRYUKOV KIRILL

ABDIGALIEV AIBEK

5

PANGRATION

AGON MALE -85

+20 Years Old

RUSSIA

RUSSIA

AZERBAIJAN

TURKMENISTAN

1ST PLACE

2ND PLACE

3RD PLACE

3RD PLACE

ALIMETOV KAMIL

SURODEEV DMITRI

RUSTEMLI RUSTAM

DOVLETOV TIRKESH

6

PANGRATION

AGON MALE -95

+20 Years Old

RUSSIA

RUSSIA

RUSSIA

RUSSIA

1ST PLACE

2ND PLACE

3RD PLACE

3RD PLACE

AMAGOV TAMERLAN

KALININ SERGEY

BOBROV SERGEY

MEDVEDEV MITRIY

7

PANGRATION

AGON MALE -105

+20 Years Old

RUSSIA

RUSSIA

IRAN

TURKMENISTAN

1ST PLACE

2ND PLACE

3RD PLACE

3RD PLACE

BONDARCHUK ALEXEY

GUSEYNOV BEKBULAT

SEYED HAMIN SAFINEJADOTAGHSARA

MADAMINOV ZAFAR

8

PANGRATION

AGON MALE +105

+20 Years Old

RUSSIA

IRAN

ROMANIA

GEORGIA

1ST PLACE

2ND PLACE

3RD PLACE

3RD PLACE

ABDULAEV SUKHRAB

MOHAMMADALI KIANI HARCHEGANI

LOY DEJAN

TKEMALADZE GRIGOR
No.

Descipline

Weight

Gender

Country

Place

Full Name

1

PANGRATION

AGON FEMALE -64

18-19 Years Old

RUSSIA

KAZAKHSTAN

1ST PLACE

2ND PLACE

LITVINOVA VICTORIA

AVGANOVA SAYAGUL
No.

Descipline

Weight

Gender

Country

Place

Full Name

1

PANGRATION

AGON FEMALE -76

+20 Years Old

RUSSIA

TURKMENISTAN

1ST PLACE

2ND PLACE

PILIPEHKO IRINA

GUJALOVA YULYA
No.

Descipline

Weight

Gender

Country

Place

Full Name

1

PANGRATION

SEMI MALE -58

18-19 Years Old

TUKMENISTAN

ITALY

1ST PLACE

2ND PLACE

TANRIBERDIYEV AHMET

SARTI FULVIO

2

PANGRATION

SEMI MALE -65

18-19 Years Old

ITALY

GERMANY

TURKMENISTAN

GREECE

1ST PLACE

2ND PLACE

3RD PLACE

3RD PLACE

MOROSO MARIO

PAPADOPOULOS ALEXANDROS

HANGELDIYEV GURBANYAZ

RIZOS GEORGIOS

3

PANGRATION

SEMI MALE -72

18-19 Years Old

NETHERLANDS

GREECE

GREECE

ITALY

1ST PLACE

2ND PLACE

3RD PLACE

3RD PLACE

VAN DER WIELEN TOBIAS

PAPAGEORGIOU SIAMITRAS IOANNI

PALAMARIS KONSTANTINOS

AMENDOLA MICHELE

4

PANGRATION

SEMI MALE -79

18-19 Years Old

CANADA

GREECE

1ST PLACE

2ND PLACE

VAN MEURS JOSHUA

LENOS EMMANUIL

5

PANGRATION

SEMI MALE +92

18-19 Years Old

ITALY

TURKEY

GREECE

1ST PLACE

2ND PLACE

3RD PLACE

CIRILLO FASANO

GALDIR ABDULLAH

FATETSIDIS NIKOLAOS
No.

Descipline

Weight

Gender

Country

Place

Full Name

1

PANGRATION

SEMI MALE -60

+20 Years Old

ROMANIA

ITALY

TURKEY

ROMANIA

1ST PLACE

2ND PLACE

3RD PLACE

3RD PLACE

ENACHE NOKOLAE

BARRETA VINCENZO

KAYAS NIHAT

ROSU SILVIU

2

PANGRATION

SEMI MALE -66

+20 Years Old

RUSSIA

TURKMENISTAN

AZERBAIJAN

AZERBAIJAN

1ST PLACE

2ND PLACE

3RD PLACE

3RD PLACE

CHUPANOV SHARAMAZAN

NURYYEV YALKIN

DARISHOV JOSHGUN

DARISHOV ETIRAM

3

PANGRATION

SEMI MALE -71

+20 Years Old

TURKMENISTAN

GREECE

GREECE

GREECE

1ST PLACE

2ND PLACE

3RD PLACE

3RD PLACE

BABAYEV ABDYLLA

TOSOUNIDIS GEORGIOS

PATERAKIS NIKOLAOS

OIKONOMOU  ILIAS

4

PANGRATION

SEMI MALE -78

+20 Years Old

ROMANIA

ROMANIA

ROMANIA

IRAN

1ST PLACE

2ND PLACE

3RD PLACE

3RD PLACE

PAULESCU ADWARD

SCROBOTOVICI LIVIU

STRUGARIU FLORIN

GOLPIR MEHDI

5

PANGRATION

SEMI MALE -85

+20 Years Old

NETHERLANDS

AZERBAIJAN

TURKEY

TURKMENISTAN

1ST PLACE

2ND PLACE

3RD PLACE

3RD PLACE

LEPPINK THOMAS

RUSTEMILI RUSTAM

KEZER HASAN

DOVLETOV TIRKESH

6

PANGRATION

SEMI MALE -95

+20 Years Old

ITALY

GREECE

GERMANY

GREECE

1ST PLACE

2ND PLACE

3RD PLACE

3RD PLACE

ANGELINO ANTONIO

DIMITROPOULOS CHRISTOS

PAPADOPOULOS DIMITRI

KARELLAS PANAGIOTIS

7

PANGRATION

SEMI MALE -105

+20 Years Old

TURKMENISTAN

IRAN

RUSSIA

1ST PLACE

2ND PLACE

3RD PLACE

MADAMINOV ZAFAR

REZA FADAEI

GUSEYNOV BEKBULAT

8

PANGRATION

SEMI MALE +105

+20 Years Old

GREECE

ROMANIA

1ST PLACE

2ND PLACE

 

TRAMOUNTANIS SOTIRIOS

LOY DEJAN 
No.

Descipline

Weight

Gender

Country

Place

Full Name

1

PANGRATION

SEMI FEMALE -49

18-19 Years Old

GREECE

TURKEY

1ST PLACE

2ND PLACE

KARIPIDOU DESPINA

BOSTANLIK ASLI

2

PANGRATION

SEMI FEMALE -54

18-19 Years Old

TURKEY

1ST PLACE

 

CANDAS ESIN

3

PANGRATION

SEMI FEMALE -70

18-19 Years Old

GREECE

 

1ST PLACE

 

NISTRIDOU DOMNIKI SOFIA
No.

Descipline

Weight

Gender

Country

Place

Full Name

1

PANGRATION

SEMI FEMALE -57

+20 Years Old

RUSSIA

ROMANIA

GREECE

1ST PLACE

2ND PLACE

3RD PLACE

LITVINOVA VICTORIA

MIHALACHE CATALINA

GOUNTA NIKOLETA

2

PANGRATION

SEMI FEMALE -62

+20 Years Old

RUSSIA

GREECE

GREECE

1ST PLACE

2ND PLACE

3RD PLACE

PILIPEHKO IRINA

SEFER MARIA

FOLIOU MARIA

3

PANGRATION

SEMI FEMALE -76

+20 Years Old

ROMANIA

GREECE

TURKMENISTAN

1ST PLACE

2ND PLACE

3RD PLACE

CALIMAN ANDREEA

TSERNIKOUDI MARIA

GUJALOVA YULYA
No.

Descipline

Weight

Gender

Country

Place

Full Name

1

PANGRATION

PLERIS SPECIAL

 MALE -71

LATVIA

EQUADOR

1ST PLACE

2ND PLACE

SEVELOVS IGORS

TROYA JORGE

2

PANGRATION

PLERIS SPECIAL

 MALE -85

LATVIA

RUSSIA

1ST PLACE

2ND PLACE

MASLOVS ANDREJS

SOKOLSHCHIK LEV
No.

Descipline

Weight

Gender

Country

Place

Full Name

1

PANGRATION

SEMI SPECIAL

 MALE -105

LATVIA

ROMANIA

TURKEY

1ST PLACE

2ND PLACE

3RD PLACE

DOMNINS SERGEJS

LOY DEJAN

BOLDAZ MURAT
| | | | |
| --- | --- | --- | --- |
| NO. | COUNTRY | PLACE | MEDALS |
| 1 | RUSSIA | 1ST PLACE | 20 GOLD – 12 SILVER – 16 BRONZE |
| 2 | KAZAKHSTAN | 2ND PLACE |  7 GOLD – 7 SILVER – 15 BRONZE |
| 3 | ITALY | 3RD PLEACE |  7 GOLD –  3 SILVER – 1 BRONZE |
| 4 | GREECE | 4TH PLACE |  6 GOLD –  15 SILVER – 11 BRONZE |
| 5 | ROMANIA | 5TH PLACE |  5 GOLD –  6 SILVER – 7 BRONZE |
| 6 | TURKMENISTAN | 6TH PLACE |  3 GOLD –  3 SILVER – 5 BRONZE |
| 7 | AZERBAIJAN | 7TH PLACE |  3 GOLD –  2 SILVER – 6 BRONZE |
| 8 | LATVIA | 8TH PLACE |  3 GOLD |
| 9 | NETHERLANDS | 9TH PLACE |  2 GOLD –                     1 BRONZE |
| 10 | TURKEY | 10TH PLACE | 1 GOLD –  4 SILVER – 1 BRONZE |
| 11 | I.R.IRAN | 11TH PLACE |  1 GOLD –  2 SILVER – 5 BRONZE |
| 12 | CANADA | 12TH PLACE |  1 GOLD –  1 SILVER |
| 13 | GERMANY | 13TH PLACE |                     1 SILVER – 1 BRONZE |
| 14 | ECUADOR | 14TH PLACE |                     1 SILVER |
| 15 | GEORGIA | 15TH PLACE |                                         2BRONZE |
| 16 | KYRGYZSTAN | 16TH PLACE |   |
| 17 | LITHUANIA | 16TH PLACE |   |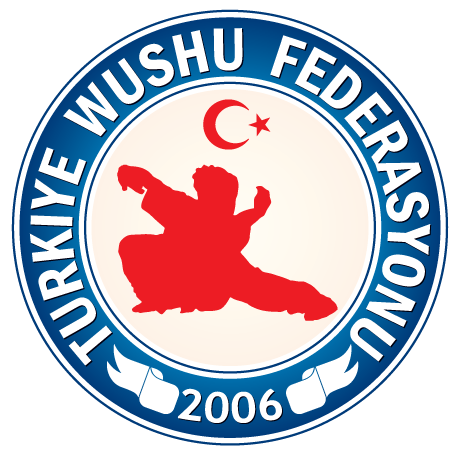 Wushu conduct the international tournament In 4th World Martial Arts Festival and the result of competitions are as follows: 
No.

Descipline

Weight

Gender

Country

Place

Full Name

1

WUSHU

SANSHUO  MALE -48

15-18 Years Old

TURKEY

AFGHANISTAN

1ST PLACE

2ND PLACE

KADIR AGAKISI

MEYSAM HUSEINI

2

WUSHU

SANSHUO  MALE -52

15-18 Years Old

TURKEY

IRAN

1ST PLACE

2ND PLACE

 

SELAHATTIN YILDIZ

MORTEZA SARDARIAN

3

WUSHU

SANSHUO  MALE -60

15-18 Years Old

JORDAN

TURKEY

1ST PLACE

2ND PLACE

ALI ZEYAD

OZBERK ERCE ERIKLI

4

WUSHU

SANSHUO  MALE -65

15-18 Years Old

TURKEY

EGYPT

1ST PLACE

2ND PLACE

SEFER BUDAKLI

ALAA SAYALA

5

WUSHU

SANSHUO  MALE -70

15-18 Years Old

TURKEY

JORDAN

1ST PLACE

2ND PLACE

 

ABDULKADIR OZTURK

ABDEL KAREAM GISHAVI
No.

Discipline

Weight

Gender

Country

Place

Full Name

1

WUSHU

SANSHUO  MALE -56

18-35 Years Old

IRAN

TURKEY

1ST PLACE

2ND PLACE

JALIL GHIYASI

SAMI YILDIRIM

2

WUSHU

SANSHUO  MALE -75

18-35 Years Old

IRAN

TURKEY

1ST PLACE

2ND PLACE

 

AHMAD KHODABANDELOU

NIZAMETTIN KARACA

3

WUSHU

SANSHUO  MALE -80

18-35 Years Old

SYRIA

TURKEY

1ST PLACE

2ND PLACE

AHMED ZEYAD SUKANI

AHMET CULHA

4

WUSHU

SANSHUO  MALE -85

18-35 Years Old

TURKEY

KUWAIT

1ST PLACE

2ND PLACE

MUSLUM AKILLI

ALI HAZA

5

WUSHU

SANSHUO  MALE -90

18-35 Years Old

IRAN

TURKEY

 

1ST PLACE

2ND PLACE

SEYED MAJID HASHEMZADEH

MURAT ERDEM

6

WUSHU

SANSHUO  MALE +90

18-35 Years Old

TURKEY

IRAN

1ST PLACE

2ND PLACE

RIDVAN OZAY

MEHDI RAHMANI
| | | | |
| --- | --- | --- | --- |
| NO. | COUNTRY | PLACE | MEDALS |
| 1 | TURKEY | 1ST PLACE | 6 GOLD  – 5 SILVER |
| 2 | IRAN | 2ND PLACE |  3 GOLD – 2 SILVER |
| 3 | JORDAN | 3RD PLACE |  1 GOLD – 1 SILVER |
| 4 | SYRIA | 4TH PLACE |  1 GOLD |
| 5 | AFGHANISTAN | 5TH PLACE |                    1 SILVER |
| 6 | EGYPT | 5TH PLACE |                    1 SILVER |
| 7 | KUWAIT | 5TH PLACE |                    1 SILVER |
Tel: +98 21 88824822Iran's Office:
Fax: +98 21 88824620
Cell No: +98 938 9216959
Address: No.3, Varzandeh Ave, Mofateh St, haft-e-tir Sq., Tehran, Iran.
E-mail: This email address is being protected from spambots. You need JavaScript enabled to view it. , This email address is being protected from spambots. You need JavaScript enabled to view it.
Web site: www.ifmaf.com
Turkey's Office
Tel: +90 212 4660032
Fax: +90 212 4660042
Cell No: +90 539 6851201
Address: Kartaltepe Mh. Incirli Cd. No: 46K: 3 D: 9 bakirkoy Istanbul, Turkey.
E-mail: This email address is being protected from spambots. You need JavaScript enabled to view it. , This email address is being protected from spambots. You need JavaScript enabled to view it.
Web site: www.ifmaf.com
Yours sincerely
Mohammad Nouhi
President of International Federation of Martial Arts Festival